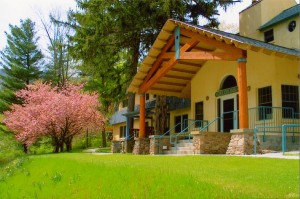 The Menla Mountain Retreat Center was established as a Tibetan healing center with the blessing of His Holiness the XIV Dalai Lama. It has several buildings on the 325-acre campus that are available for conferences, workshops, yoga and meditation practice, etc. Located near Phoenecia, NY, the Center has a newly built spa, where visitors can enjoy saunas, massage and body work, as well as Tibetan and other holistic medicine practices. An organic garden provides delicious food.
The Center's Spiritual Director is Dr. Robert Thurman, who was the first American to becomes a Tibetan Buddhist monk, and currently teaches Indo-Tibetan Buddhist Studies at Columbia University. His wife, Nena v.S. Thurman is the Managing Director of the Center. The Center is affiliated with other scholars and practitioners familiar with the Tibetan Buddhist traditions.
Learn about the Menla Mountain Retreat Center's programs.