Smallwander is a travel and tourism organization based in New York's Capital District. We strive to introduce tourists to the wonders of authentic cultural destinations by hosting tours that have a minimal impact on the natural environment.
Smallwander stands apart from the competition because of its emphasis on unique, interactive, and personalized cultural tours as well as its adherence to strict environmental standards. Our guides are Certified Interpretive Guides trained by the National Association of Interpretation, and all of the operations are designed to be sustainable by following the US Travel Care Code, developed by East Carolina University's Center for Sustainable Tourism.
Buddhism in America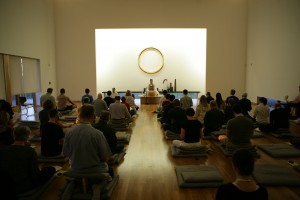 Have you heard about meditation and want to learn more about various Buddhist traditions that originated in Asia? Smallwander is offering a "Buddhism in America" tour of centers and institutes in the Hudson Valley and Catskill mountains of New York. This tour will enable you to experience meditation (also known as mindfulness) as practiced by Buddhists from the East while catching a glimpse of how it is evolving in the United States. Experience meditation practice at Rinzai Zen, Won Buddhist, and Tibetan retreat centers.
Smallwander guides small groups of up to 22 travelers to each of the centers, providing all the logistics and coordination between the centers so that you can have this opportunity to learn from these different traditions and meditation methods within a short time frame. All meals, lodging, and ground transportation are included—all you have to think about is getting yourself to the pickup locations. We also build in time to learn from your other travel-mates. You'll be able to compare and contrast, ask questions, and see what works for you.
One Buddhism in America tour will be offered in 2014. This will be a 7-day tour featuring the Won Dharma Center, the Menla Mountain Retreat Center, and the Dai Bosatsu Zendo.
The Dai Bosatsu Zendo practices Rinzai Zen, which began in China but was later established in Japan. Our group will experience their Intro to Zen program, which will give practitioners a glimpse into this beautiful, formal practice.
The Menla Mountain Retreat Center has a basis in Tibetan Buddhism. Menla operates as a healing and retreat center. Our group will receive insights into Tibetan Buddhist practice and faith from scholars affiliated with the Center.
The Won Dharma Center practices Won Buddhism, which is a 100-year-old tradition that originated in Korea. Their practice is sometimes regarded as a reformed, or modernized form of Buddhism.
Tour Activities
Sitting meditation
Working meditation
Formal silent meals (Dai Bosatsu Zendo)
Background talks on the various traditions
Walking meditation
Other moving meditation
Journaling
Accommodations
Comfortable single, double-occupancy, or dormitory sleeping arrangements will be provided, depending on the center. Each day starts very early (some days as early as 4:30 am) so, please get used to getting up early before the trip. Meals will be mostly vegetarian.
Dates: July 14 to July 20 (6 nights, 7 days) –
SIGNUP PERIOD IS CLOSED
Won Dharma Center

: July 14 – 16

Menla Mountain Retreat Center: July 16 – 18
Dai Bosatsu Zendo Intro to Zen Weekend: July 18 – 20
Upcoming Tours
Please contact us if you would like to participate in a tour similar to Buddhism in America in the spring of 2015. Smallwander plans to offer other cultural tours in the future, such as trips to small-batch distilleries, small town art events, local food tours, and/or tours of historical sites, such as Underground Railway locations. Beyond the Hudson Valley, other regions of New York will be explored, including the Erie Canalway.